Intercultural Ambassador Program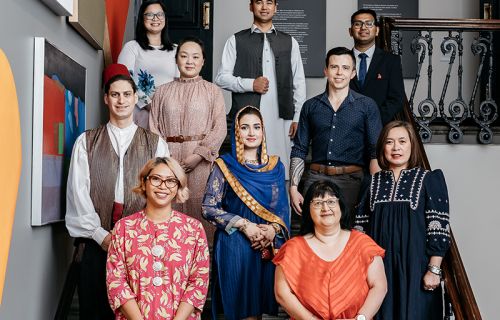 About the Intercultural Ambassador Program
This program aims to enhance community awareness and social acceptance in Ballarat, foster leadership within multicultural and Indigenous communities, and highlight the positive contributions migrants and Indigenous Australians make to our community.
 Ambassadors are appointed every three years.
Our new Intercultural Ambassadors for 2022 – 2025 are:
Lokan Ravi from India (Kerala) is a Critical Care Clinical Nurse Specialist.
Lucien Ibrahim is a Civil Engineer from Lebanon.
Maridel Martinez Andanar, from the Philippines is a Broadcaster Journalist.
Lilly Wright, from Malaysia, Café/Kitchen Co-ordinator, who also bakes cakes.
Victor Barrantes, from Colombia teaches Latin Dance and has his own fitness business.
Yaqoob Kazan from Afghanistan is a healthcare Instrument Technician.
Yilin Liu is an Account Manager from China.
Anam Shahab is a Computer Engineer from Pakistan.
Antonella Cupello is a Personal Carer, born in Australia whose parents were Italian Migrants.
Hien Blackmore, born in Australia, whose parents were refugees from Vietnam. She is a stay-at-home mum.
Can I apply?
If you are from a multicultural, Aboriginal or Torres Strait Island background and want to make a positive contribution to our local community you can apply to be a part of the Intercultural Ambassador Program.
Ambassadors are appointed every three years.
More information
Call our Intercultural Services team on (03) 5320 5500 or email interculturalservices@ballarat.vic.gov.au for more information about the program.