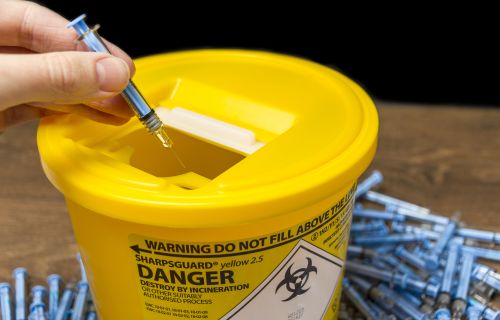 Sharps Disposal
In partnership with Ballarat Community Health Centre, a free needle/syringe exchange service is provided within the City of Ballarat for Insulin dependent persons.
Sharps must be stored in an approved sharps container and delivered to the Environmental Health Unit for disposal (25 Armstrong Street South, Ballarat). A free replacement container will be provided.
This service is available for the general community and not available for commercial businesses/activities. If you are undertaking a business involving the use of sharps and need advice regarding suitable disposal and management, call our Environmental Health Unit on 5320 5702.
Syringe Collection
If you find a discarded syringe on public land in Ballarat, call our Customer Service team on 5320 5500 to arrange safe collection and disposal. You will need to give a detailed description of the syringe location.
Syringes on private property are the responsibility of the owner.
Safe disposal of needles and syringes
Do
Tell children never to pick up needles and syringes.
Place used needles only in a suitable sharps container.
Store the container in areas that are child and animal proof.
Pick up the syringe by the blunt end with gloves or tongs.
Don't
Toss syringes loose in the bin.
Clip needles with scissors.
Dispose of syringes in the toilet.
Place syringes in aluminium cans or glass containers.
Place the sharps container in the bin. This puts our waste collections workers at risk.
For more information call Syringe Disposal Hotline on 1800 552 355 or our Environmental Health Unit on 5320 5702.
Received a needlestick injury?
See Better Health - Needlestick Injury.
Page topics