Responsible pet ownership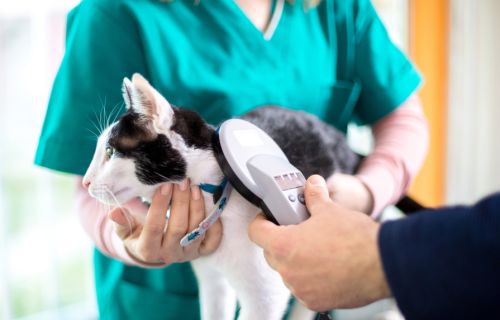 How many animals can you keep?
Microchipping
A microchip is different to animal registration. It provides a permanent form of identification regardless of which municipality you live in. It helps to quickly reunite you with lost or injured pets if they are found outside of Ballarat.
All cats and dogs being registered with us for the first time must also be microchipped. Your vet can help with a microchip if your pet does not have one.
Cats
Cats fit into domestic life and routines easily and comfortably. They are however, predators by nature and will go looking for mates, defend territory and hunt wildlife, particularly during the dusk-to-dawn period.
What are the dangers of allowing your cat to roam at night?
At night your cat is most likely to:
attack wildlife
get hit by passing traffic
be injured or injure another cat in a fight
howl and annoy neighbours (especially during mating season)
How do I build cat proof fencing and cat enclosures?
A number of excellent cat enclosure products are available commercially. For cost effective DIY tips visit Agriculture Victoria's cat confinement enclosures and fencing.
Free cat desexing program
National Desexing Network, City of Ballarat, and participating vets are providing free desexing for household cats as part of the City of Ballarat desexing assistance program will open 1 January 2023. The program is available for City of Ballarat residents only.
The criteria includes:
Holders of pension, concession or health care cards
People on low incomes
People with large numbers of cats
Semi-owners willing to take responsibility for stray unowned cats
Due to overwhelming popularity and demand, the free cat desexing program is almost at capacity. The NDN will set up a waitlist and take names and numbers of those interested in case an opportunity becomes available.
Call 1300 368 992 for more information or visit the National Desexing Network website. 
Is there a cat curfew in Ballarat?
Yes, cat owners are required to keep their cats confined to their premises at night between sunset and sunrise. The curfew assists in minimising harm to the environment and wildlife, and reduces annoyance to neighbours.
If cats are not confined, they are at risk of being trapped and handed in to the pound. Owners will be asked to pay costs associated in reclaiming their cat and a fine may be issued for not complying with the curfew.
Animal infringements
If you have receive an animal infringement and believe you have a good reason for not paying the fine you may apply to appeal the infringement: