Recycling
We want to get our contamination rate of recycling bins down to zero and reduce how much waste is going to landfill. Up to 16% of our recycling has items that cannot be recycled. Not transporting that would save about 22,000km each year. That equals about 200 semi-trailers loads, or 4900 tonnes, from Ballarat to Melbourne, and would save about 75 tonnes a year of greenhouse gases from reduced heavy vehicle transport each year.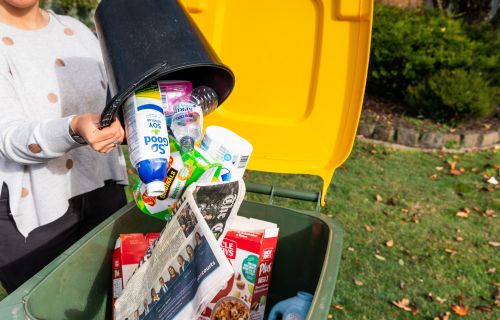 What can I recycle?
You can recycle:
Plastic bottles and containers from your kitchen, bathroom and laundry.
Clean paper and cardboard. 
Aluminium and steel cans.
Glass cannot be recycled in your yellow-lidded recycling bin. Please take your glass to one of our Pass on Glass sites or place it in your rubbish bin.
What can go in my recycling bin?
You can place these items in your recycling bin:
Aerosol cans
Aluminium foil (clean of food)
Cans, tin and aluminium (empty and clean)
Cardboard
Deodorant cans and bottles (empty)
Egg cartons
Envelopes (no window)
Envelopes (with window; plastic window removed and REDcycled)
Fruit punnets (clear plastic)
Greeting cards
Ice cream containers (empty)
Juice bottles (plastic, with no handle)
Magazines
Margarine containers (clean))
Milk bottles (plastic #2), lids removed and placed into your rubbish bin
Newspaper
Office paper
Plastic containers (rigid plastic)
Pizza boxes (clean of food and oils)
Sauce bottles (plastic, empty)
Shampoo and conditioner bottles (empty)
Takeaway plastic containers (plastic, clean)
Telephone books
Tissue boxes with plastic removed
Toilet rolls (empty)
Wrapping paper
Yoghurt containers (clean)
What plastics can go in my recycling bin?
Plastic number

Ballarat yellow recycling bin (lids removed and placed into your rubbish bin)

PET (#1)

Soft drink bottles
Juice bottles
Clear berry punnets
Detergent bottles
Soap pump bottles
Dip containers (clean)
Spread containers (clean)

HDPE (#2)

Milk bottles
Laundry powder bottles
Coloured bottles
Sauce bottles
Shampoo, conditioner and body wash bottles

PP (#5)

Ice cream containers
Yoghurt containers
Margarine containers
Take away food containers (clean)