Share your thoughts on features of the Wendouree West Recreation Reserve community recreation project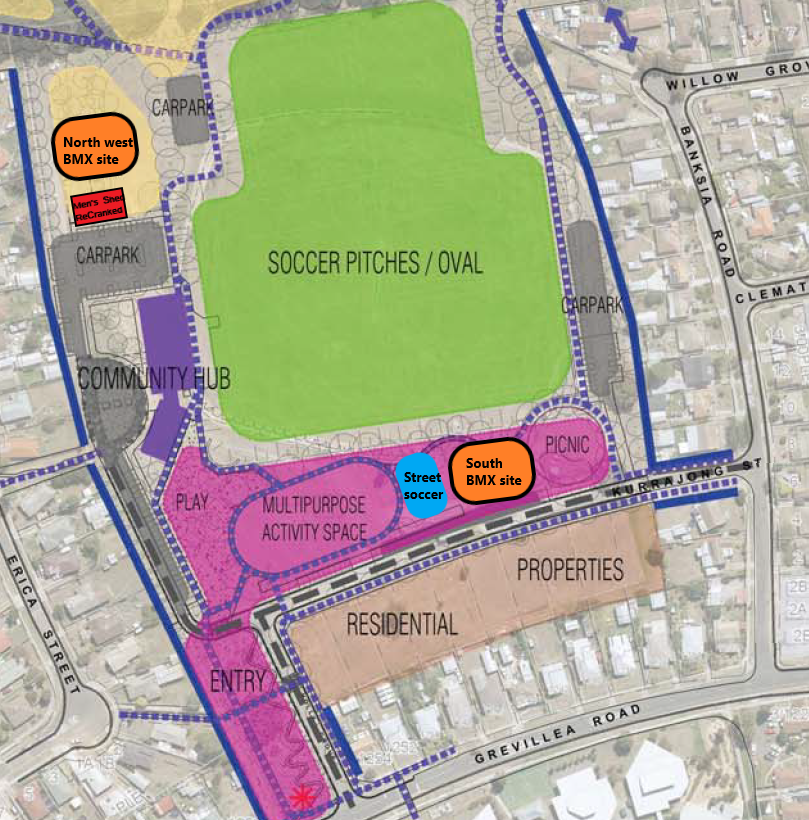 A new community hub, BMX pump track and three soccer pitches are among the facilities planned for the new Wendouree West Recreation Reserve.
The Victorian Government  is investing $7 million to fund new community infrastructure at the Reserve. Other new facilities on the site will include a street soccer zone, skateable elements, synthetic cricket wicket, sports lighting and coaches' boxes, a new Men's Shed and ReCranked Workshop.
The new community hub incorporating a sports pavilion will also include community spaces for Wendouree Neighbourhood Centre, Ballarat YMCA Youth Programs, Forest Rangers Soccer Club and a community kitchen.
To ensure the project meets their needs, Ballarat young people are encouraged to visit the City of Ballarat's MySay page between 18 November and 18 December to share their ideas about the following aspects of the project:
Location, lay-out and design of the BMX pump track

Colour/design of walls of street soccer zone

Skate elements as part of landscaping

What else would make the Reserve a great place
Ideas from contributors will inform planning for the BMX pump track as well as the delivery of the street soccer zone and skate elements to be included in the landscaping of the Reserve.
Further feedback will be sought from the community early next year through a range of opportunities at local schools, youth hubs and on the MySay page.
The concept plans for the BMX pump track and associated landscaping will be finalised by next April with construction to be completed by June 2022.
Works to deliver the three new soccer pitches are currently underway at the reserve and are likely to be completed early next year. The design for the community facility at the Reserve is also underway.
The Strengthening Wendouree Community Recreation Precinct project, at Wendouree West Recreation Reserve, is being developed by City of Ballarat in partnership with the Victorian Government.
Other project partners include Wendouree Neighbourhood Centre, Forest Rangers Soccer Club, YMCA, North Ballarat Cricket Club and Wendouree Men's Shed.
"The new developments at Wendouree West Recreation Reserve are another great example of the many impressive projects taking shape in Ballarat, in partnership with the Victorian Government," Ballarat Mayor Cr Daniel Moloney said.
"The Council is committed to meeting the community's need for sport and recreation infrastructure. We can all look forward to this development and many others adding to the enjoyment of our community and residents."
"The Andrews Labor Government is proud to fund this important upgrade of the Wendouree West Recreation Reserve which will provide the community with the facilities they deserve", Member for Wendouree Juliana Addison said.
"I welcome the opportunity for people to have their say in shaping this exciting project."