Colourful Art Installation for Little Bridge Street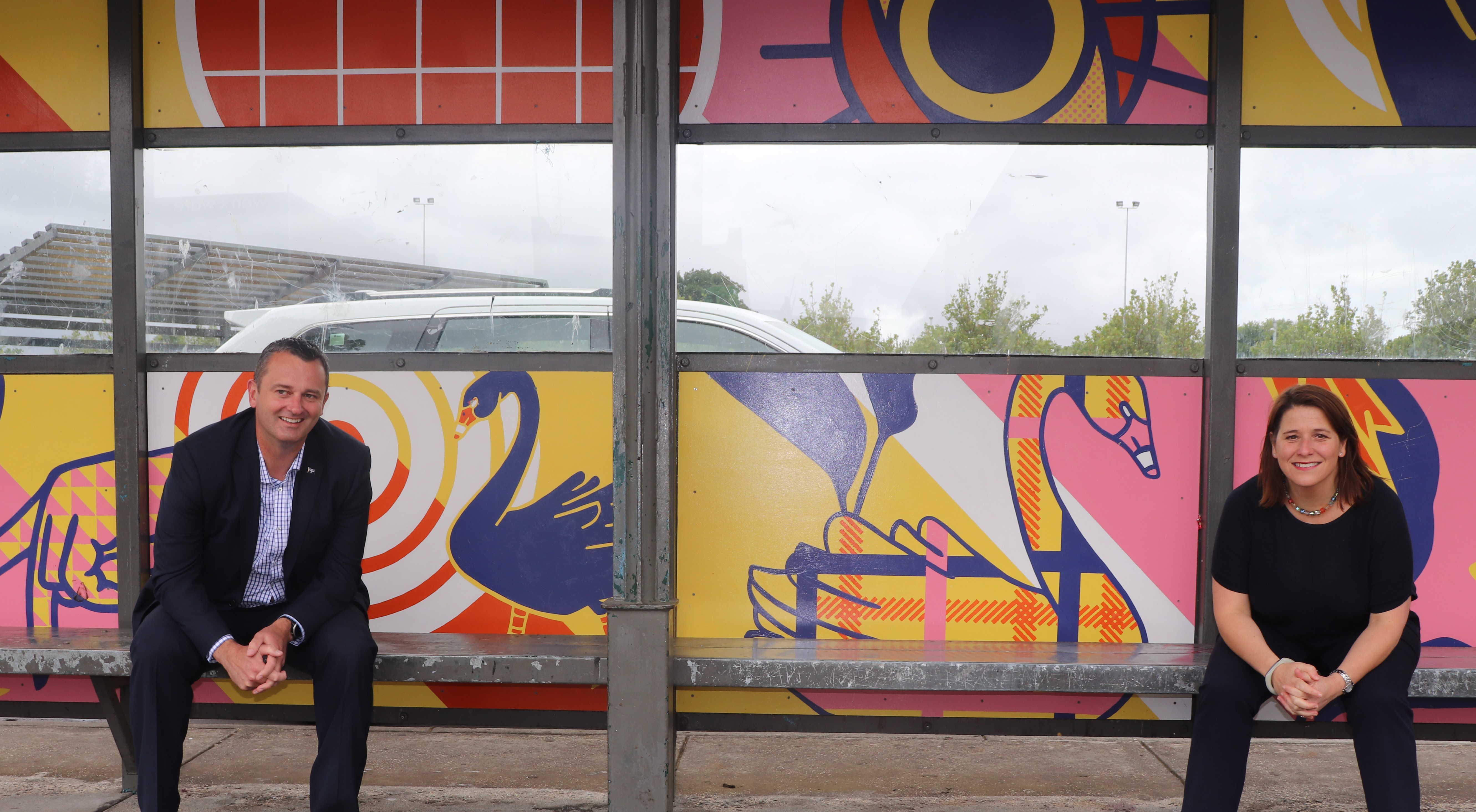 Ballarat's Little Bridge Street bus interchange recently received a colourful facelift with the installation of a temporary, graffiti-proof community artwork, thanks to funding from the Victorian Government's Crime Prevention Program. 
The Graffiti Prevention Grants are part of the Community Crime Prevention Program and provide funding of up to $30,000 for Victorian Councils to develop and deliver projects to prevent graffiti vandalism in local communities. 
Ballarat -born artist, Justine McAllister created the themed bus shelter works, 'movement colour and shape'. "This project has extra meaning for me. It's intended to create a positive effect on the local community," she said. 
The artwork was painted on custom-shaped boards, coated in a graffiti-proof top layer which was installed onsite in a single day. 
 "We know that improving the look of our neighbourhoods helps people feel safer, and that's why the Victorian Government has provided nearly $2.2 million in funding to support 111 graffiti prevention grant projects since 2015," Member for Wendouree, Juliana Addison said. 
 "I look forward to seeing the positive effect it will have on Little Bridge Street." 
The original artwork installation is part of the extended City of Ballarat early works beautification program, designed to bring a fresh, bold and vibrant aesthetic to the location. 
"These two projects go a long way to deliver immediate improvements, particularly in relation to the long-term issue of graffiti," Ballarat Mayor, Cr Daniel Moloney said. 
The City has also successfully applied for $450,000 from the Federal Government's Safer Communities Program for CCTV, lighting and bollards to be installed in Little Bridge Street to improve safety.