Soccer mums kicking goals
Ballarat mums are pulling on their soccer boots and taking to the field. Getting active, forging friendships and learning the basics of football, these women are bringing their a-game to life each week.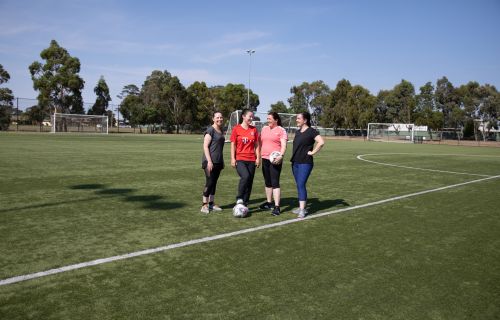 As a young girl growing up in China, Sarah Zheng loved watching soccer. However, it was rare for girls to play the male-dominated sport.
After moving from Melbourne to Ballarat with her husband to start their family three years ago, Sarah was keen to forge some close friendships in her new home town.
It was while she was searching for family-friendly activities to enjoy with her two children on social media that she came across Ballarat Soccer Mums.
"Since I joined in, I have met other mums and made lots of friends. They all tell me if there's other games or events and ask me to go. I also play futsal with some of the mums," she says.
"It's great fun and there's no judgement. I love it."
Soccer Mums is an introductory soccer program designed for women of all ages, experiences and abilities. It enables women to have fun, meet new people,
get active and learn the basics of football.
A VicHealth initiative, Soccer Mums is supported by the City of Ballarat, Football Federation Victoria, Ballarat and District Soccer Association and Sports Central.
The Ballarat group first began in late 2018. Since then, each Saturday during the school term, the women meet to practice at the Ballarat Regional Soccer
Facility. The group also played its first match at the Women's World Cup Carnival at the Darebin International Sports Centre late last year, which resulted in a 2-2 draw.
Nancy Kay first began as a participant in Ballarat Soccer Mums and now runs the sessions.
"I went to the first session and went – wow, this is amazing. It's low key, you learn a few skills, play with other people of your age and situation. I've loved it ever since."
– Nancy Kay
Nancy says participants have told her that being part of the group has boosted their confidence and they are now looking to play in a local league.
"We're really keen to get more people involved in Ballarat Soccer Mums and we want to build up more opportunities for women to play soccer, including for older women."
The City of Ballarat is proud to partner with Ballarat Soccer Mums and other female-focused sporting and get active initiatives, such as Ballarat Sebastopol BMX Club's Female Coaching Clinics. Initiatives like these are encouraging women and girls to get active and discover great leadership opportunities, both on and off the sporting field.
City of Ballarat Sport and Active Living Participation Project officer Teagan Kenny says Ballarat Soccer Mums goes to the core of the City of Ballarat's Active Women and Girls' Strategy.
"We know twice as many Ballarat men than women participate in sport," Teagan says.
"It's vital we support the role that physical activity and groups, such as Soccer Mums, play towards encouraging more women to participate in sport and physical
activity and that we re-shape stereotypes, support gender equity and empower participants."
Want to join Ballarat Soccer Mums?
Register for a free come and try session.
Did you know?
The City of Ballarat is one of Australia's first councils to work towards creating female-friendly facilities at all of its sporting facilities.
The White Flat Recreation Reserve changerooms now feature female-friendly changerooms and amenities as part of the $16 million upgrade of local
sporting and community facilities.