myMayor's message
As I write we are in the grip of the COVID-19 global pandemic. It's a time that has tested us all – individuals, communities and governments. I think we've passed the test. We've shown we're a strong, supportive community, that we'll do everything we're asked, and more, to get through this crisis.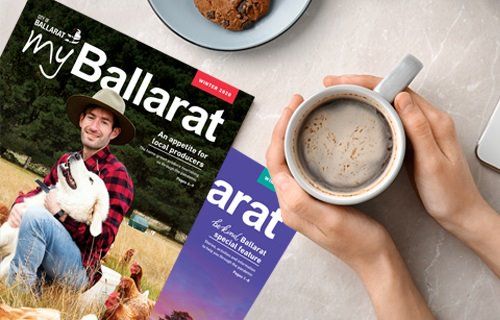 The City of Ballarat is already actively planning and preparing for the road to recovery post COVID-19.
In the early days of the pandemic, the City of Ballarat acted quickly — we closed all non-essential services and changed the way we do things, so that our essential services staff can continue to work safely and effectively.
We also encouraged you to stay home to flatten the curve, reduce the spread of COVID-19 and stay safe.
And we knew we'd need something to brighten our days — the result was our Be Kind Ballarat campaign.
It's a kindness movement. Be Kind to yourself, Be Kind to others and Be Kind to businesses. Our story, A kindness pandemic, tells you more about our Be Kind campaign and how we've kept our essential services running.
This edition also features eight pages of additional Be Kind Ballarat content, from uplifting community stories and activities designed to keep you busy through to a list of essential contacts to help you through the pandemic.
Our cover story this season showcases how two local businesses are weathering the current storm. Read more in our story, An appetite for local producers.
There is no better time than now to consider the art of hygge. Pronounced HOO-gah, it's a Danish way of life that includes things that are nice, cozy, safe and known.
So, in the tradition of hygge, I encourage you to take some time for yourself this winter. Curl up with our myBallarat winter magazine, pull out some board games and remember to keep in touch with family and friends.
I'm looking forward to the time when we can get out and support local businesses, catch up with friends and family, all while continuing our Be Kind movement.
Stay safe and well.
Mayor Cr Ben Taylor