Managing our hazardous household waste | ourballarat winter 2021
Batteries are the leading cause of fires in landfill and recycling facilities and are a major risk to people and the environment when not disposed of safely.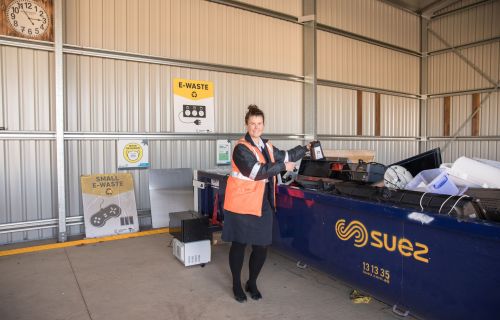 Ballarat residents are encouraged to take batteries and chemicals to the Ballarat Transfer Station for safe disposal.
City of Ballarat Environmental Support Officer Emma Swift says batteries can cause major problems when they end up in landfill and recycling streams.
"They can easily explode and cause fires in waste processing facilities. They can also harm the environment if the chemical or battery acid leaks."
Emma says disposing of your batteries and chemicals is easy and safe with no cost involved. "Residents can take eWaste and chemicals to the Ballarat Transfer Station for free. Batteries can also be placed in the eWaste bins located at all City of Ballarat Libraries."
Emma encourages residents to consider what happens to their waste beyond the bin and the harmful effects hazardous items have on the environment if not disposed of safely at a drop-off location.
"Hazardous items can have harmful effects on the environment – and the people handling our waste – if not disposed of safely at a drop-off location."
The benefits of detoxing your home
Household chemicals can harm your family and pets, add extra fuel to a house fire, release toxic fumes and pollute the environment.
Keep your home safe and reduce the risk of harm by safely disposing of your hazardous waste. You will also be keeping toxic waste out of our waterways, reducing landfill and lowering the risk of fires in waste facilities. Learn more at sustainability.vic.gov.au.
Circular Economy Precinct
Improving the efficiency of our recycling and waste disposal operations is a key priority for Council.
The City of Ballarat is seeking partnerships with the Victorian and Federal Governments, as well as public and private partnerships, to make our vision for an effective Circular Economy Precinct a reality.
The development of a Circular Economy Precinct in the city's west will bring enormous regional benefits in terms of job creation, improved use of resources and greater cost efficiencies.
The proposed precinct will involve a mix of City of Ballarat-owned and commercial operations. Initially it will be home to a Community and Industry Resource and Recovery Centre and a Materials Recovery Facility which will improve our capacity to separate rubbish for recycling and re-use.
In the longer term, it will accommodate energy recovery businesses using waste to energy technology, recycling and remanufacturing businesses, a waste
and resource management education centre, and research and innovation companies seeking to add value to recycled products.
FREE drop-off sites
Ballarat Transfer Station
The City of Ballarat Transfer Station in Gillies Street South, Alfredton, is a permanent drop-off site for hazardous household waste with special drop-off areas for eWaste (including batteries, lights, mobile phones and other items such as a small radio or keyboard) and chemical waste.
There are also drop-off areas for household green waste, recycling and hard waste.
For up-to-date information on opening hours, items that you can and cannot drop off and how to sort your load before you leave home, visit our Transfer Station page.
Ballarat Libraries
Batteries and small ewaste items, such as a small radio, keyboard or mobile phones, can be taken to any City of Ballarat Library and placed in the eWaste drop-off bins.
Battery recycling fast facts
Batteries and small ewaste items, such as a small radio, keyboard or mobile phones, are the most common form of hazardous household waste
Battery waste is growing by 20% a year
350 million household batteries are consumed in Australia each year
When recycled, 95% of components can be re-used
What happens to your batteries and chemicals after you drop them off?
The City of Ballarat contracts Cleanaway to manage the disposal of hazardous waste. Cleanaway removes the batteries and chemicals from the Transfer Station once a fortnight and takes them to a recycling facility where the batteries are separated into material categories, such as metal for further processing and ongoing recycling.