Cultivating a new generation of green thumbs
Since 1953 the Ballarat Begonia Festival has inspired people with new trends for not only their homes and gardens but also their professional lives.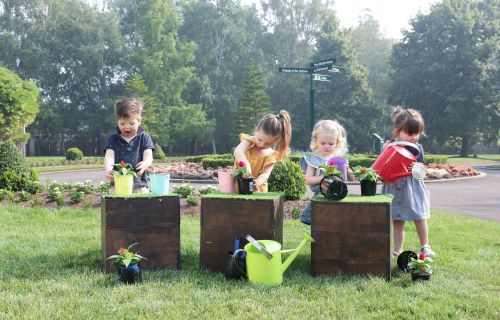 In 2020, the BotaniKids – the educational arm of Friends of the Ballarat Botanical Gardens – will continue to feed children's fascination with earth, water and plants, giving them the opportunity to plant their own seedlings in colourful pots to take home and watch grow.
Last year, more than 3,000 children took part in the hands-on Begonia Festival activity.
BotaniKids convener Julie Bradby says a love of gardening, nurtured at a young age, can inspire people to become great gardeners at home and at a professional level.
That is certainly true of husband and wife Peter and Sheree Blood who met while working at the Ballarat Botanical Gardens more than 20 years ago.
Not only have they forged satisfying careers within the City of Ballarat's Parks and Gardens team, they've experienced the exciting transformation of the Begonia Festival over two decades.
Peter looks after the Victoria Street Gardens while Sheree works in the nursery, nurturing our world renowned begonias, a role she describes as not just a job but a privilege.
"This really is the crown of horticulture careers and working with the begonias makes you feel part of history, carrying on the collection," Sheree says.
"It's just fantastic coming to work every day and walking into this environment."
Both have spent time training and guiding City of Ballarat apprentices and are looking forward to the new generation of gardeners who will no doubt put their own stamp on future Begonia Festivals.
The Ballarat Begonia Festival provides much more than economic impact to our city. This much-loved event inspires career progression and delivers a platform
for other industries, such as horticulture, to be celebrated.
Find out more about a career in horticulture at the City of Ballarat.
Begonia Festival 2020
This year's Ballarat Begonia Festival program features three themes over three days, with a host of kid-friendly activities and plenty of opportunity to get your hands dirty.
Saturday has a horticulture theme with expert advice from Gardening Australia hosts Costa Georgiadis and Sophie Thomson, while the kids will talk rubbish, literally, as Dirtgirl explains a circular economy and how to recycle.
Homeowners are sure to get design inspiration for their own backyards from garden displays presented by the Ballarat Floral Art Group, a professional landscape gardener, City of Ballarat gardening apprentices and Federation University horticulture students, who will present their entry as part of their tertiary studies.
Sunday will feature culinary delights with three former MasterChef contestants – our own Tim Bone from Ballarat along with fellow contestant Anushka Zargaryan, and author and TV presenter Poh Ling Yeow – all cooking up a storm.
Entertainment will be across three stages, and the PowerFM Begonia Parade on Monday 9 March will herald the final day of activity and another colourful chapter in the Begonia Festival story. Families can meet and greet ABC Kids' characters Bluey and Bingo or be amazed by local magician Barry Govan.
Tiny tots will be entertained over the three days by painting with the Society of Artists, roving entertainment and Tiny Town, a selection of adorable cubby play
spaces. Kids can even build their own tiny treehouses to take home as a permanent reminder of the inspiration that is the Ballarat Begonia Festival.