Repairing our residential roads | ourballarat winter 2022
As winter weather leads to more potholes on our roads, the City of Ballarat is preparing to ramp up repairs to keep our residential roads safe for our community.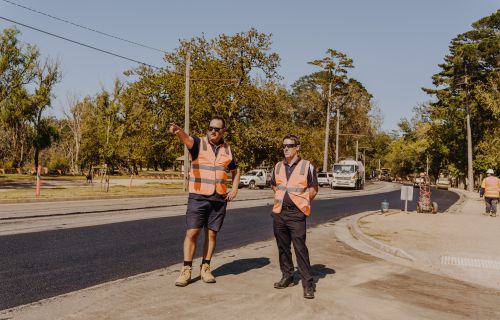 The City of Ballarat is responsible for more than 1,200 kilometres of sealed residential roads across our municipality, including repairing potholes, maintaining roads and delivering road upgrades.
Not all roads are the responsibility of the City of Ballarat. Freeways and major arterial roads, such as Sturt Street, Main Road, Creswick Road, Latrobe Street, Howitt Street, Norman Street, Midland Highway, Albert Street, Skipton Street, Remembrance Drive, Wiltshire Lane and others are the responsibility of VicRoads.
These roads can be found through searching 'Maps of declared roads' at vicroads.vic.gov.au
How we repair our roads
As our roads age, traffic increases and wet weather damages our road network, more work is required to keep our roads at a high standard.
The City of Ballarat is investing more than ever to maintain our roads. The City of Ballarat's 2021-2022 budget delivered a major investment of $1.4 million, up from $500,000, in asphalting and stabilisation patching road works across the city.
The City of Ballarat's re-seal program also increased from $1.4 million to $2 million.
City of Ballarat Executive Manager Operations Luke Ives says the organisation and Council understands the community's frustration at the city's damaged road network.
"Our Sealed Roads team worked on repairing as many of our roads as possible throughout the dry weather earlier this year," he says.
"Unfortunately, wet weather leads to more potholes. Filling potholes with asphalt and gravel is a temporary solution in winter to make the roads safe for motorists.
"When we have dry weather later this year, we will carry out major patching to repair many of these roads."
How potholes form
Heavy traffic and natural ageing causes cracks in the surface or underlying pavement. Rainwater seeps through these cracks into the base material beneath.
The vibration of traffic causes the wet base material to settle or shift, forming a cavity. Without base support, the pavement weakens further and ultimately caves in, causing a pothole.
Repairing potholes
Potholes are filled with a mixture of asphalt and gravel and are repaired as a temporary solution in the winter to improve road safety.
Potholes are also repaired as a temporary solution until the road is prioritised for major patching works
Major patching
Major patching is used to repair multiple potholes and failures in the road surface and underlying pavement.
A larger section of road is removed and both the surface and pavement are replaced. These works require dry weather and are often carried out in summer.
The Sealed Roads team assesses the urgency of maintenance and prioritise works. Each year, major patching is carried out on about 150 roads across the municipality
Re-sealing roads
Re-sealing is a proactive road maintenance program that works to prevent potholes and small cracks starting to form in the road seal.
The re-seal program sprays bitumen on to the road surface, providing a new waterproof barrier. Road sealing is carried out every 10 to 15 years to extend the life of our roads.
Each year, the City of Ballarat re-seals about 200 roads across the municipality.
Roads renewal
This is the full reconstruction of a road when roads are at the end of their useful life.
The tell tail signs of a failing road include wheel lane rutting, potholes and edge breaks.
A geotechnical investigation of the old road pavement determines the strength of the road and informs the new design.
Old roads are reconstructed to new standards, usually with a thicker pavement and wider traffic lanes.
The shoulders of the roads are also constructed and sealed to prevent edge cracking and provide laneways for cyclists.
How you can keep our roads safe
City of Ballarat Council Plan Alignment
The projects, initiatives, and ideas in this article align with the following goals of the City of Ballarat Council Plan 2021-2025:
Goal 4
A city that conserves and enhances our natural and built assets
Page topics