Being smarter about parking
Amy Boyd is one of the architects behind the City of Ballarat's Smarter Parking roll-out which is transforming Ballarat's CBD parking.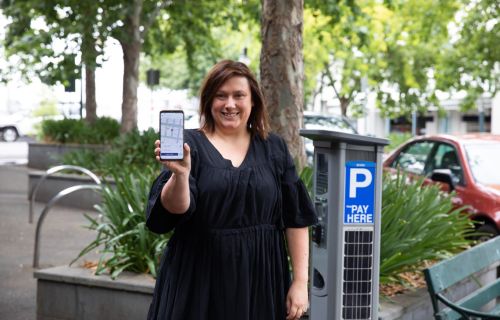 "For the user, there is more flexibility and choice in how they pay."
– Amy Boyd
"There's greater choice in where they park and the technology allows them to move more easily around the city without having to worry about tickets on windscreens or watching the clock all the time." 
Smarter Parking features new meters and the free phone app. All you need is your car registration number.
You can pay by coin, credit card or app. There are no time restrictions – you just pay for how long you stay.
This user-friendly system means you no longer have to print out a ticket and place it on the dashboard of your car.
Your paid meter time is also transferable. You can move around to any other on-street parks within the CBD – just stay within the time you have paid for or top up when your time is up if you wish to continue shopping or dining.
Amy says number plate recognition is helping the City of Ballarat understand parking behaviour.
"It allows us to monitor areas that are getting more parking stress, such as Howitt Street."
Smarter Parking is also about turnover in the CBD, giving everyone the opportunity to access shops and businesses.
Read more about Smarter Parking.