Ballarat's changemakers
The City of Ballarat's Disability Advisory Committee works behind the scenes to advocate to council for disability, access and inclusion for all. This dedicated group is determined to make life easier for the estimated 20,000 people in Ballarat living with disability.
Sometimes it's the little things that create barriers for people with disabilities – uneven surfaces, narrow doorways and heavy doors.
For Sharon Eacott, who lives with multiple sclerosis and has difficulty with coordination and balance, navigating Ballarat's streets and buildings can be a complex challenge.
"If you have a mobility impairment, especially an invisible mobility impairment, getting across the bluestone gutters and on to the footpath, then trying to walk along a footpath that can be sloping is incredibly difficult."
– Sharon Eacott
One building that stands out for providing fantastic access is the Ballarat Sports Events Centre (BSEC), which opened its doors in August last year.
The $24 million state-of-the-art indoor sports centre, which can host basketball, netball, volleyball and badminton, offers a range of accessible features from wide hallways, flat surfaces, accessible toilets and amenities, including an Adult Change Facility, to varied level counters at the canteen and accessible doorways.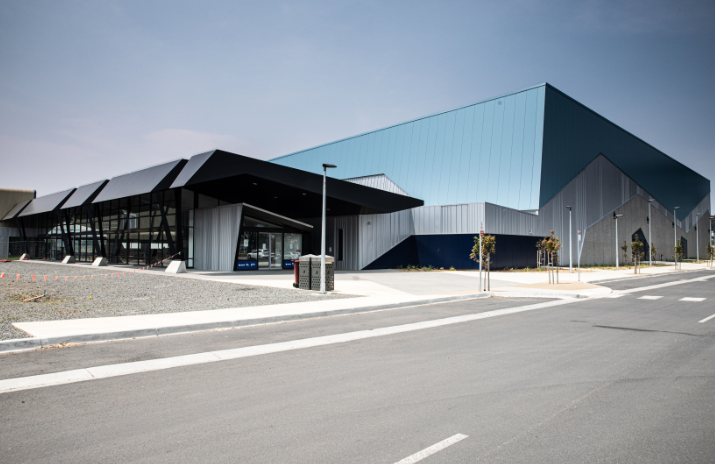 Vincent McDonald, an architect who specialises in access for all, says the Ballarat Sports Events Centre goes beyond minimum inclusion requirements and embraces best practice.
"The committee do ask City of Ballarat departments to send us their plans whenever they are doing major or minor works. We received plans for BSEC, we had a look at them and made some suggestions," he says.
"The theory is if something works for people with disabilities, it works for older people, it works for families, it works for everyone. It's that universal design principle."
Sharon and Vincent are two of the 11-member Disability Advisory Committee. The committee is made up of community members with a diverse lived experience of disability and experts in the field.
The committee has been instrumental in advocating for the award-winning Victoria Park Inclusive Play Space, the Marveloo and Adult Change Facilities.
It's also thrown its support behind moves to achieve better access at Her Majesty's Ballarat and worked on the City of Ballarat's Disability Access and Inclusion Plan.
The City of Ballarat, working with the committee, has partnered with various levels of government to achieve improvements for pedestrians, including a crossing
installed outside the Ballarat Specialist School in Gillies Street, a pedestrian crossing in Skipton Street, footpath improvements at Parent Place and along the Avenue of Honour.
The committee also advocated for the implementation of a 40km zone and extended crossing times at traffic lights in the Ballarat CBD.
Sharon says there is room for inclusive solutions in Ballarat's rich heritage environment.
"Ballarat grew organically and now we need to find a way to maintain that historical link while still making it something that can be enjoyable for everybody in the community today."
Vincent agrees.
"Design solutions are really important. I always think if someone puts a ramp in with the handrails, that's a failure of design. There are ways of achieving access
and still maintaining the heritage feel of a building."