An appetite for local producers
Ballarat is home to an increasing number and range of food producers who are sustaining us with their home-grown produce. Whether they are selling at the farm gate, to local cafes and restaurants or at markets in non-pandemic times, our local producers are continuing to nourish us and our local food industry.
Joel Owins is doing his best to make sure Ballarat residents have access to fresh, locally grown, free range eggs.
White Swan Free Range Eggs began as a family hobby in 2016.
"The idea came from my dad, Chris, after he saw portable chicken coops when he was driving in the countryside," Joel says.
The family started out with 100-day-old chicks and quickly built their first chicken caravan.
"While the chicks were growing, we began creating a portable chicken coop, or caravan, as the coop we had was too small," he says.
Chicken caravans are portable chicken coops which make it easier to rotate hens more frequently and give them greater access to fresh pasture.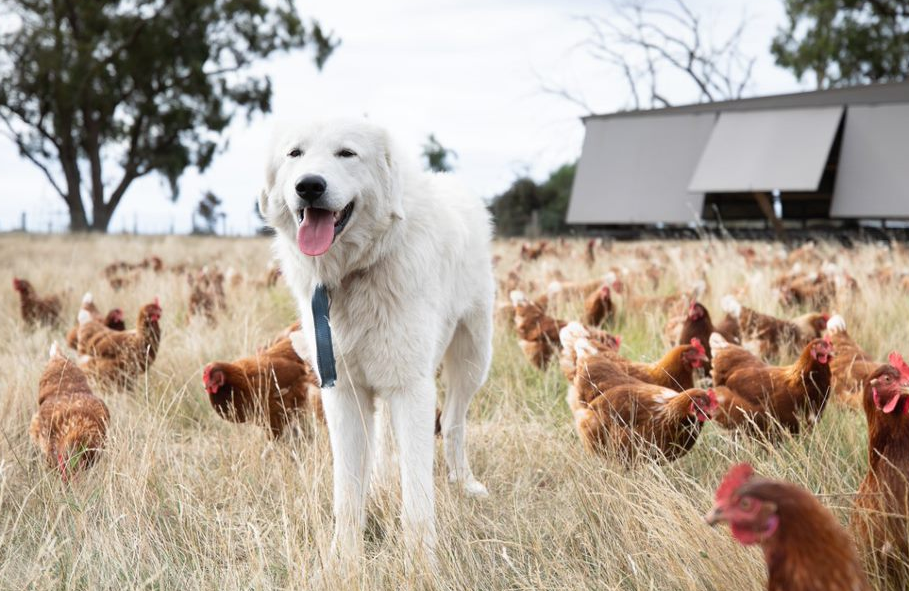 The rollaway nest boxes in Joel's caravan bring dual benefits — the hens don't sit on their eggs, and the conveyer belt makes egg collection easier.
"It's good for hygiene. It keeps the natural bloom on the eggs which keeps them fresher for longer," he says.
"Our original plan was to sell from our farmgate to the public as a bit of a hobby. We had 10 acres of land, which was ample for 100 laying hens."
The next level
Demand from local businesses and sales from the farmgate shop in Invermay led to a decision to expand the family-run business.
"Mid-last year we made the decision to make it more than a hobby and moved our farm to Navigators on the outskirts of Ballarat. We now have 500 laying hens with the plan to grow to 1,000 next year," Joel says.
"We supply a few cafes, including L'espresso, The Local and Wildseed Café. We provide a high-quality fresh product, it's what our cafes and restaurants are after — and their customers can taste the difference."
Joel loves running the business, enjoying the country lifestyle while still living in a major regional city.
While demand has been high since the business started, the farm has felt the impacts of COVID-19.
"Seventy per cent of our sales were to cafes and restaurants and most of that has completely dropped off," Joel says.
"The hens don't stop laying. If it wasn't for Ballarat people coming to the farmgate to buy our eggs we would have been faced with a large backlog."
Joel understands how important it is to support local business in these times of uncertainty.
"By buying locally, you get a higher quality, fresh product that a person has put a lot of care and thought into producing."
– Joel Owins
"You get sustainable and local food, not produced in a large factory, and most of the time the cost of shopping locally is competitively priced, if not cheaper."
Joel encourages Ballarat residents to get behind and support local business.
"Every dollar spent with local business counts. The profits stay here in Ballarat. It creates more local jobs, so more small businesses can operate, which makes Ballarat a better, more attractive place to live and work."
Thinking local
A collaboration between two families, Craig and Alicia Mitchell and John and Shannyn Harris, Mitchell Harris Wines manages a local pinot noir and chardonnay vineyard and also sources fruit from regional producers around Ballarat to produce about 2,000 bottles of wine a year.
As an advocate for the paddock to plate movement, Mitchell Harris showcases its own wine at its urban cellar door and wine bar in Doveton Street North and also shares the food and wine of other local producers.
"At our wine bar and cellar door in Ballarat, we maintain a policy of greater than 50 per cent of our wine list and menu being sourced from producers in our Western Victoria region," Alicia says.
The COVID-19 pandemic prompted Mitchell Harris Wines to not only rethink the delivery of its food and wine but to also take into consideration potential opportunities for the business to support our community.
"From there we built our take-away menu and pre-made meal menu and converted our space into a convenience store," Alicia says.
"At the core of everything we were doing was the clear understanding that local producers and suppliers had to be a very big part of our new product offering."
The business moved to a free delivery service with daily menu updates. It also shifted its monthly Taste Events online, with food and wine delivered to participants while information and interaction for the events are livestreamed online.
With many doing it tough at the moment, Alicia is encouraging people to be kind to local producers – the backbone of the supply chain.
Alicia says anyone wanting to support local producers should reflect on where their purchases are coming from and consider whether they could instead buy local.
"Pick an item that you really like, it might be lamb, mushrooms, red wine and set yourself the goal of buying just that one item from a local supplier," she says. "Jump on to the East Drink West website, sign up to get their newsletters but also have a good look at what local suppliers are about.
"If you've found your produce supplier, give them a call, email them or jump on their website to see where they are stocked.
"Australia and indeed Ballarat is so rich in its quality and offering of local produce and at a very minimum we should be seeing these producers thrive in Ballarat and Victoria."
A framework for prosperity
Prosperity Portfolio Councillor Samantha McIntosh is excited to see the launch of the Ballarat Prosperity Framework.
"Ballarat is an iconic city which inspires creativity, demands discovery and rewards the inquisitive."
– Cr Samantha McIntosh
"With the tourism sector undergoing great change as a result of COVID-19 it is as important as ever to be planned and strategic in our approach to attracting visitors and building our prosperous economy."
In March, Council adopted the Ballarat Prosperity Framework, which was born from the 2019 Ballarat Is Open project. The Framework will guide future City of Ballarat strategies and plans.
The City of Ballarat will also develop tools to assist the Ballarat community and businesses to work towards the vision, including a brand storybook, a Traveller Experience Plan and city-wide marketing action plans.
"Despite the current circumstances we find ourselves all in, we will continue to curate experiences our locals and visitors adore. We want everyone to fall in love with our beautiful city over and over again," Councillor McIntosh says.
We're here to help Businesses in Ballarat have faced unimaginable challenges as a result of restrictions put in place in response to the COVID-19 pandemic.
Many have ceased to trade temporarily, while others have changed the way they operate or provide services. Recognising the toll on businesses, the City of Ballarat's Economic Development team has boosted its support for local traders.
Prosperity Portfolio Councillor Daniel Moloney says a dedicated Economic Response Contact Centre has been established to provide support and advice while the City of Ballarat has also introduced a series of relief measures for local businesses.
"Now, more than ever before, community support for local business is vital," he says.
"Shop locally when you can, many businesses now provide online options and many are pursuing innovative ways to keep servicing their customers.
"Once restrictions are lifted, if and when you can, enjoy all that local businesses have to offer, making those local purchases, visiting our attractions and inviting friends and family to come and stay in Ballarat will play a major part in Ballarat's recovery."
Does your business need assistance?
Get in touch with the Economic Response Contact Centre on 5320 5500 or economicdevelopment@ballarat.vic.gov.au.