Materials Recovery Facility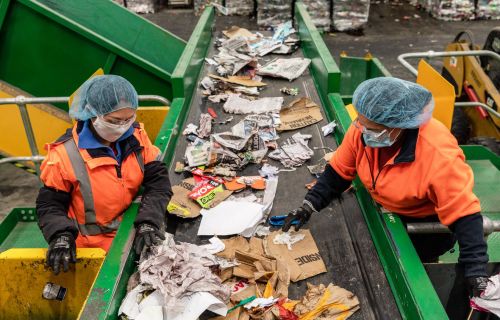 A Materials Recovery Facility is one of several projects the City of Ballarat is seeking funding for from the Victorian and Australian Governments.
What is a Materials Recovery Facility?
The Materials Recovery Facility will receive and sort commingled recyclables including paper and cardboard, metals, glass and plastics from much of Western Victoria, providing the opportunity to re-purpose and reuse valuable resources in the local and regional community.
There is potential to deliver the facility in partnership with government and a private sector entity as owner operator (commercial investment estimated $10 million).
The Materials Recovery Facility will be one of two anchor facilities at a proposed Circular Economy Precinct in Ballarat at the Ballarat West Employment Zone. The other is a CIRRC, Community and Industry Resource Recovery Centre (all waste transfer station).
Watch how a Materials Recovery Facility works
Video credit, Grampians Central West Waste and Resource Recovery Group
What are the potential benefits for Ballarat?
A regional Materials Recovery Facility will create a more localised opportunity for small commercial operators and residents to divert recyclables that are currently leaking into the landfill, contributing to the 30,000 tonnes of waste being deposited at Ballarat's Landfill at a cost of around $5.8 million per year.
The facility will bring significant environmental benefits to a large part of regional Victoria as regional local government areas send their recyclables to Ballarat for re-purposing and reuse.
The Circular Economy Precinct will create jobs, bring innovation, attract investment, reduce waste to landfill, retain resources locally for repurposing, increase recycling and reduce costs to Council and ratepayers.
What kind of investment is needed to make this happen? 
$16 million for facility foundational infrastructure 
 
A 10 hectare site at Ballarat West Employment Zone
$10 million private investment through a joint venture in Materials Recovery Facility equipment costs, installation and commissioning
 
MOU with Victorian and Australian Governments to deliver on shared policy initiatives in the circular sector to improve sustainability and recycling outcomes
Page topics